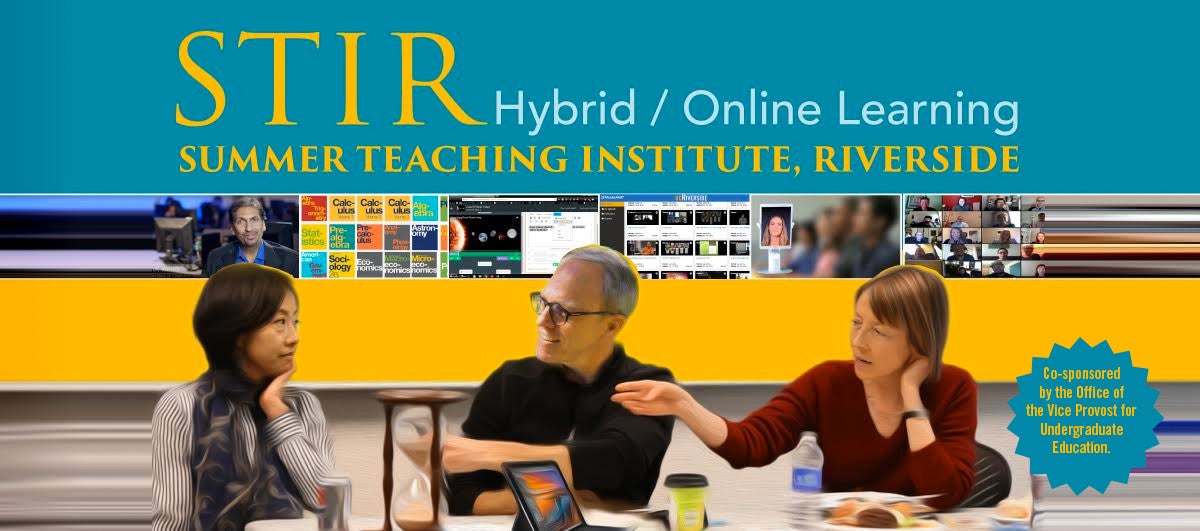 Summer Teaching Institute, Riverside (STIR)
Register for the STIR Institute.
The STIR Institute is designed for both experienced UCR faculty and instructors who are new to online teaching.
Description
This research-based preparation for college and university teaching is designed to immerse instructors in the student experience of online/hybrid learning. Participants will be guided through a process to help them make informed, discipline-sensitive decisions about their proposed course/s. The emphasis will be on helping instructors begin to create technology-infused courses that will engage students in purposeful, interactive learning activities. Reflecting our campus commitment to the three tenets of Universal Design for Learning (UDL), this Institute will consciously model and utilize multiple means of Representation, Action and Expression, and Engagement. Participants will also be introduced to UCR online instructor colleagues, an arrangement that will support collegial conversations, guided online course observations and reflection on implications for course designs and instructional activities.
Two live sessions - during Modules 2 and 4 - will provide opportunities for sharing ideas, showcasing materials, and for scholarly reflection on teaching and learning in "on-ground" and virtual classrooms. You will use and become familiar with iLearn (Blackboard Learning Management System) and online resources to support teaching and learning in live and delayed contexts.