Riverside, Ca –
We are pleased to announce a new solution for student printing that is available now!
Based on feedback we received in the Winter 2018 Campus Technology Assessment Survey, Information Technology Solutions (ITS) worked over the summer to implement 14 new cloud printing kiosks across campus – powered by the wēpa printing solution.
You no longer have to contend with limited lab hours or long lines at the printers. You can now print from anywhere on campus to one of the 14 kiosks – and four of the kiosks have a scanner attached for scanning to email. You can even now choose to print in color!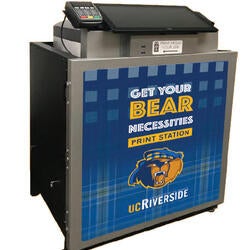 With the new cloud printing kiosks, students are able to choose to print their documents from one of 14 cloud printing kiosks across campus. View a map of the available kiosks here. Features are expanded to include color printing, double sided, direct printing from Cloud accounts (like Google docs), direct printing from iLearn as well as scanning documents to email. To find the wēpa print kiosk nearest you, download the "wēpa print" app for your smart phone, select "University of California Riverside" as your school and login. Or, visit www.wepanow.com and login by selecting "University of California Riverside (UCR)" as your school. 
You can find plenty of help documentation in our campus knowledge base located at http://goto.ucr.edu/cloudprintingsupport or view this document for more information. Once you have used the new printing kiosks, please complete our feedback survey at the following link http://goto.ucr.edu/cloudprintingfeedback. Your feedback will enter you for a $25 gift card drawing!

We are grateful to our campus partners in the Library for their collaboration to help implement this new service over the summer. 
Future Service Spotlight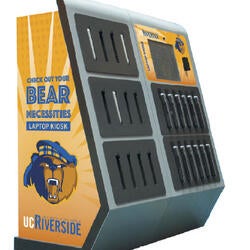 Coming Soon! New Laptop Checkout Kiosks: With the cost of personal laptops and the inconvenience of restrictive computer lab hours, ITS will pilot a laptop checkout kiosk capable of holding 30 high powered machines (12 Dells, 12 Mac Books and 6 Chromebooks) which will have all of the UCR computer lab software installed and ready to use. With a 24 hour checkout period and 4 hour battery life, students will be able to take the device to a location of their convenience to study on their own schedule. The laptop kiosk will be located in Orbach Library so that students can take advantage of extended library hours. The service also offers a mobile app where students can check availability of machines from their device. View this document for more information.