The Innovative Learning Technology Initiative (ILTI) is designed to meet UC campus needs for high quality online courses. The Initiative will enhance the educational experience and opportunities for UC students by helping them get access to high demand courses, satisfy degree requirements, and help students graduate on time.
To date, UCR Instructors have designed and redeveloped more than 35 courses across various departments at the University.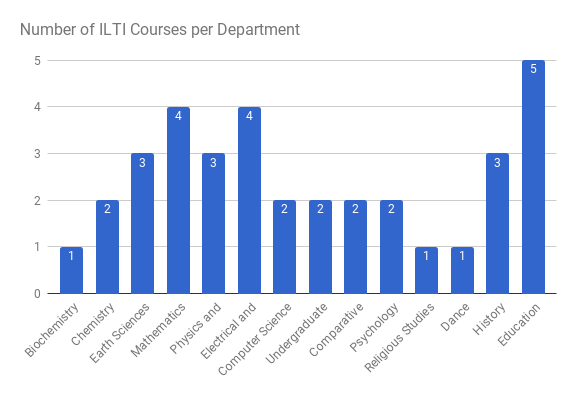 Congratulations to UCR Instructors in receiving the UCOP Innovative Learning Technology Initiative Award. These instructors have received funding to develop and redesign hybrid and online courses through RFP 4 & 5. In total, ILTI funding has reached $1.9M+ in the past two years. With these funds, UCR instructors are able to enhance and redevelop more high and in-demand courses for UCR Students.
ILTI RFP 7
RFP 7 opens August 22, 2018. Instructors interested in working with Academic Engagement on submitting an ILTI proposal for funding online/hybrid course development, please view the RFP 7 announcement for more information.
ILTI Submission Deadlines

| UCR Internal Deadline | UCOP Proposal Deadline |
| --- | --- |
| 10/29/18 | 11/26/18 |
| 3/1/19 | 4/5/19 |
*Note: Assistance with proposal drafts submitted to the Engage team past the "UCR Internal Deadline" (see above) will be postponed to meet the following RFP window.
---
Funding Guidelines:
Funding will be available for:
Design and development of fully online courses
Opening online courses to students enrolling from other UC campuses
Design and development of hybrid courses
Opening hybrid courses to students enrolling from other UC campuses
Priority will be focused on:
Transforming a face-to-face course to a fully online version
Developing a new online course
Revising an existing online course
Limited funding will be available for:
Transforming a traditional face-to-face course to hybrid by developing digitized components to be delivered online
Developing online components for a new hybrid course
Enhancing existing online components of hybrid courses to make them accessible/enrollable to students on other UC campuses
Funding Limits
The maximum award for RFP 7 is $90K for fully online quarter courses, $95K for fully online semester courses.
---
Instructions
Submissions are being handled by ProposalCENTRAL, an online system for managing proposals.
Submission Documents
Appendix A - Narrative (docx)

Appendix B - Departmental Support and Understandings (docx)

Appendix C - Faculty and Collaborators Agreement and Understandings (docx)

Appendix D - Course Materials (docx)

Appendix E - Course Budget (xlsx)

Download the submission documents (zip) (these documents are also available in proposalCENTRAL)

---